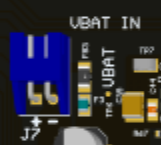 Create® 3 Power Adapter (left) and J7 connector (right)
The Create® 3 power adapter also supplies the Raspberry Pi 4 with power and communication through a USB 2.0 (Type C) on both the TurtleBot 4 and TurtleBot 4 Lite. The USB interface can supply up to 3A at 5V.
For more details, visit the Create® 3 Documentation.
---
Clearpath Robotics Inc.
2022,
Revision
ec4c7ad